A kitchen is that space in the house where you are not only you cook food and build memories as well. It is where you begin your morning, making coffee, having breakfast etc. A kitchen often acts as a catalyst in the evening, bringing the family together. Sometimes. this catalyst can turn into a catastrophic setting. The cabinets might turn squeaky, the tiles jaded, and the wallpapers may start peeling off. However, if you are a homemaker who needs assistance deciding on a kitchen renovation or remodels of the cooking space, here are some signs that will help you. Avoiding those signs can be fatal for your kitchen's resale and aesthetic value.
Cramped spaces
The structure of a cooking area is a vital element in the kitchen and its design. There can be more than one person in the space at any time or situation. For example, one person might be drinking water, the second person might be cooking something, and the other might be making way to the refrigerator for ice cream. Everyone for sure has been in such a situation. It is time you need to do certain redesigning to ensure the space accommodates your family and its requirements.
Significant wear and tear 
No one expects their kitchen space to remain clean all the time. It is rightly said that there is a difference between a messy kitchen and a broken one. If you see a few creaky cabinets in the space, that is something common but, if you see multiple cabinets breaking down with time, broken tiles, and leaks everywhere then that is a major sign for you to call a kitchen renovation contractor. The leakage and broken tiles are unappealing and can also put you at risk while you work in the kitchen area.
Water leakage from the sink
Water leakage from the kitchen's sink area signifies broken sink pipes or the hollow walls near the sink that store and releases the water on the floor. Leaked water storage coming out of the sink consists of germs that can cause several diseases to a person regularly working in the space. It's time to call the experts and look for the repairs.
To increase its resale value
A kitchen requires regular maintenance that keeps the appliances in good working condition. Sometimes, broken kitchen appliances can lead to reduction in its resale value. This is when you need a kitchen renovation to sustain the value of your kitchen equipment and its space.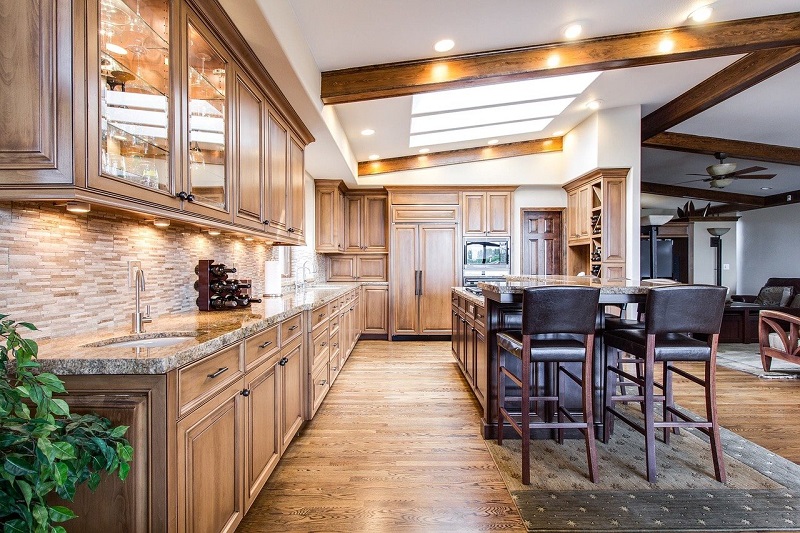 Your needs have changed
The addition of kids in a family or their shifting from the house raises the need for repairs and replacing specific equipment in the cooking space. The kitchen area working well for the pre-kid's time may annoy you now. This calls for repairs and the replacement of specific kitchen tools to invite more space in the area.
The kitchen lighting is terrible
Lighting design may not be a priority for you, but it can make a big difference in the overall experience and usability of your kitchen space. No corner of your house is more important to illuminate properly than your cooking space. Imagine the lights of you have poorly placed fixtures. A carefully prepaired lighting plan with ceiling lighting and cabinet lights can make the kitchen space more functional than before.
Now that you have understood the signs for kitchen repair, get in touch with a kitchen renovation professional. They will help you to upgrade your kitchen space as per your requirements. Hiring professionals will save you time and energy fixing the problems and they will help you resume your essential work on time after completing the project.