It's already summer, and we all know how hot it can get in this nation. Everyone is, without a doubt, trying everything they can to stay cool. We have delicacies in the Philippines that are either thirst quenchers or excellent for chilling off. The world-famous halo-halo is one of these delicacies.
Apart from halo-halo, Filipinos are also big fans of ice cream, to the point where we create our own variation. If you step outside your door, there's a good chance you'll encounter an ice buko vendor ringing their bell. And, of course, no one can forget the legendary "dirty ice cream," which isn't dirty at all.
When children hear Selecta and Nestle's distinctive songs, they quickly hurry outside to get a popsicle. The good news is that ice cream in the Philippines isn't limited to these standard flavors. Here are some of the unique ice cream flavors available solely in the Philippines.
In the Philippines, there are a variety of ice cream flavors to choose from.
Ubes or Yam
You might be asking why ube, a common taste, is at the top of this list. While you may be able to purchase ube ice cream in your local supermarket, this flavor is not widely available elsewhere. Ube, often known as purple yam, is a rare fruit, and this ice cream flavor is even rarer. To make things even better, ube is frequently used with macapuno.
Langka is another flavor that is frequently used with ube ice cream (jackfruit). Langka gives ube ice cream a sweet aroma and flavor, while macapuno thickens it and gives it that true coconut flavor. Because it's cheap and easy to find, ube ice cream is at the top of this list. Locals may overlook this flavor, but tourists will undoubtedly enjoy a scoop of ube ice cream.
Cheese
Cheese, like ube, is a popular ice cream flavor in the Philippines. Dirty ice cream is generally flavored with ube and cheese. Sorbeteros have been serving cheese ice cream across the country for almost 50 years before Quezo Real. Sobreteros used to make ice cream from of carabao milk.
When Ramar Foods developed Magnolia Queso Queso in the 1970s, cheese ice cream became more popular in the Philippines. Shards of cheese are scattered throughout this creamy cheese ice cream. Cheese ice cream is delicious with Pinoy Tasty and pandesal.
Strawberries
Strawberry ice cream is a popular flavor. Strawberry ice cream tubs can be found in convenience stores and supermarkets. The strawberry ice cream from Baguio, on the other hand, is worth mentioning. You may have a cone of Baguio City's delicious specialty for only 25 pesos.
Strawberry ice cream is readily available in Baguio. You can always go to strawberry farms and buy from local merchants if you want authentic ones. The beautiful thing about Baguio's strawberry ice cream is that it has little bits of strawberries, ensuring that it is prepared with real strawberries.
In the Philippines, there are a variety of ice cream flavors.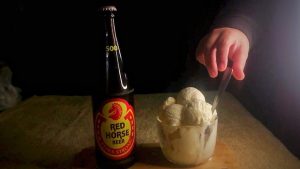 Ice cream made from tilapia
That's right, you read that correctly. In the Philippines, there is a store that sells tilapia ice cream. It also tastes like conventional ice cream, despite the fact that it smells and tastes like fish. The texture of tilapia ice cream is one of its distinguishing features. When you eat this ice cream, you'll see dry fish chunks blended in.
Tereso Abella, president of Central Luzon State University (CLSU), and Prof. Dana Dela Cruz conceptualized and developed the project's formula. Last year, at the Salon International de L'Agroalimentaire ASEAN Manila, the ice cream project got a gold award. At CLSU, you may have Daerry's Tilapia Ice Cream.
ice cream with lechon
At festivals and celebrations, lechon is one of the greatest meals available. Its crispy skin and succulent pork slices keep folks coming back for more. Now, a restaurant in Davao City sells ice cream fashioned from this Filipino delicacy. One of Azon's Boneless Lechon's best-selling items is lechon ice cream.
Lechon crumbs and even crispy Lechon skin can be found in the ice cream. The sweet and salty flavor of lechon ice cream is enhanced by the addition of lechon skin on top.
Green mango
In the Philippines, summer is mango season. Green mangoes dipped in salt or bagoong are a popular snack. Sebastian's Ice Cream came up with the idea of making an ice cream with green mangoes and bagoong on top. Green mangoes have a tart flavor that pairs well with the sweetness and salinity of bagoong.
This treat resembles a sundae more than ice cream since it has a cold soft swirl and warm melting chocolate, akin to a sundae. This ice cream is ideal for vegans and lactose sensitive people because it is not manufactured with dairy milk. Sebastian's Ice Cream in Mandaluyong sells the well-known green mango ice cream.
Ice cream from the Red Horse Beer
If you're a beer drinker in the Philippines, you've almost certainly heard of Red Horse Beer. Unlike the other ice cream flavors on this list, Red Horse Ice Cream is widely available and may be purchased online. This is the ideal dessert for parties and celebrations.
Activated charcoal
If you think the other ice cream flavors on this list are inventive, you'll be surprised to learn that one of them contains activated charcoal. Black Scoop Café's specialty dish is black mascarpone ice cream. Activated charcoal improves the texture of the ice cream while complementing its sweetness, so it's definitely worth a shot.
Ostrich and crocodile
Yes, you read that correctly. In the Philippines, you may obtain ice cream prepared from ostrich and crocodile meat. The Davao Crocodile Park came up with the idea of making ice cream out of unfertilized ostrich and crocodile eggs. The Crocodile Meat with Pandan Ice Cream costs roughly 70 pesos per cone, while the Vanilla Ostrich Ice Cream costs around 80 pesos per cone.
In the Philippines, the best ice cream
Here are some of the top ice cream flavors available specifically in the Philippines. Other ice cream flavors incorporated Filipino dishes and drinks are undoubtedly worth trying. Traveling to different areas and tourist attractions in the Philippines is the greatest way to experience these ice cream flavors.
Certainly, there are ice cream flavors based on various fruits available around the country. This summer, the ideal way to enjoy ice cream is with your family and friends. And, since it's summer, now is the greatest time to visit local Philippine attractions for a fun adventure!